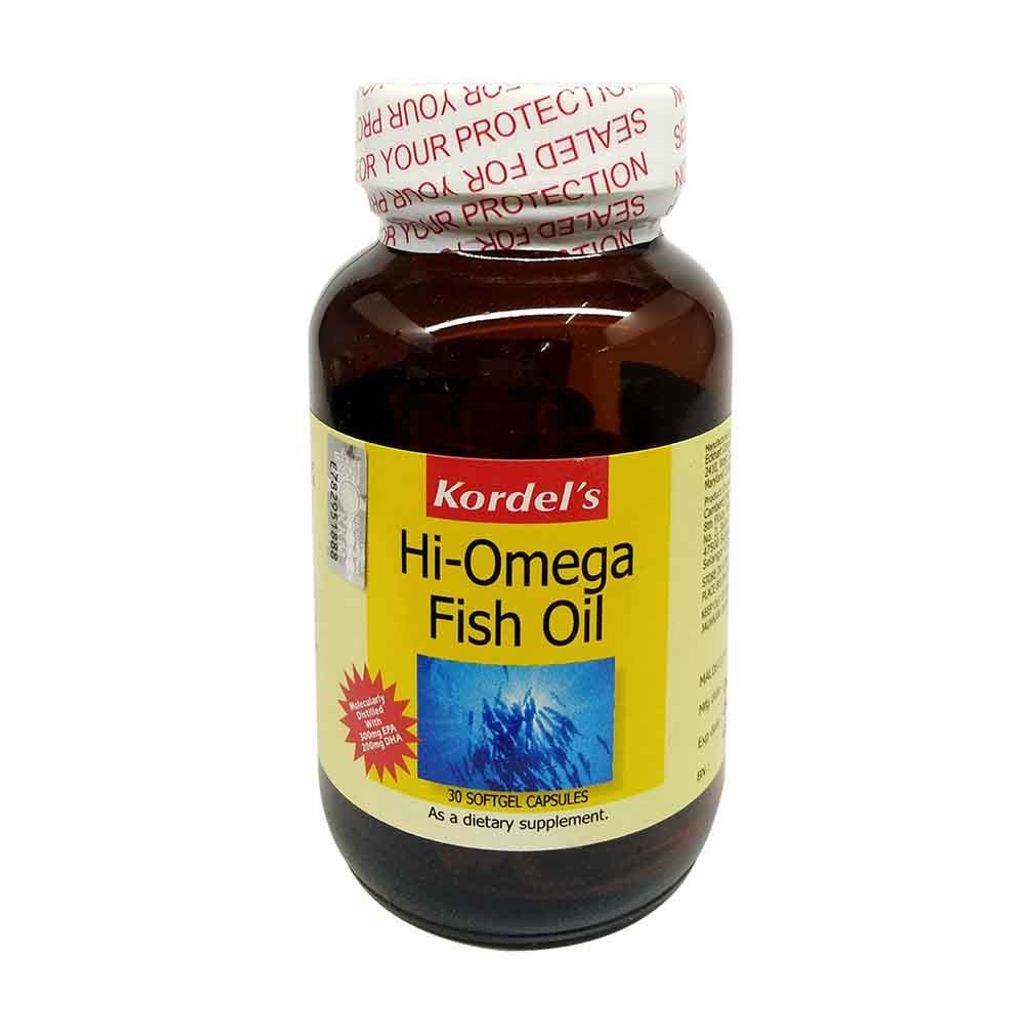 (001201) Kordels Hi-Omega Fish Oil Caps x 30s
Product Description
Hi-Omega Fish Oil
Kordel's Hi-Omega Fish Oil contains high concentrations of omega-3 fish oil which provides 300mg EPA and 200mg DHA. It contains 50% more EPA/DHA than other fish oil supplements. The fish oil extractions are molecularly distilled to remove toxins such as dioxins, PCBs, mercury and other heavy metals. This process helps ensure its purity. Kordel's Hi-Omega Fish Oil is safe for consumption and is well tolerated even after long term use.
Omega-3 Fats
Malaysians simply do not consume adequate amounts of Omega-3 rich oily fish. The fear of heavy metal contamination when eating fresh fish also poses a problem. Moreover, much of our food today is cooked with Omega-6 vegetable oil (peanut, sunflower, maize, etc) which leads to the consumption of excessive amounts of Omega-6 fats. This 'oil imbalance' is also believed to be the cause of an increasing trend in heart disease as well as other diet-related degenerative diseases. Clearly, an inadequate supply of Omega-3 fats through our diets is one of the most serious health issues confronting our generation.
There is now solid research to support the heart health benefits of a higher intake of Omega-3 fats. The American Heart Association (AHA) recommends the consumption of 2-3g of Omega-3 fats daily to maintain heart health in both healthy individuals and those at high risk of having a heart attack. However, the benefits of Omega-3 are not limited to heart health. There is growing evidence that an inadequate intake of Omega-3 can also be a risk factor for a wide range of other health issues such as inflammatory diseases.
Indications
Imbalance in dietary fat intake, high cholesterol, high triglycerides, hypertension, inflammatory disorders such as arthritis and eczema. For proper mental and eye function.
Adverse Effects : Fish oil is contraindicated in individuals with bleeding disorders. Individuals on blood thinning medications such as aspirin should also take extra caution. Diabetics and pregnant women are advised to seek medical advice before taking fish oil supplements.
Dosage
Take 1 to 2 capsules daily after meals or as directed by your healthcare professional.