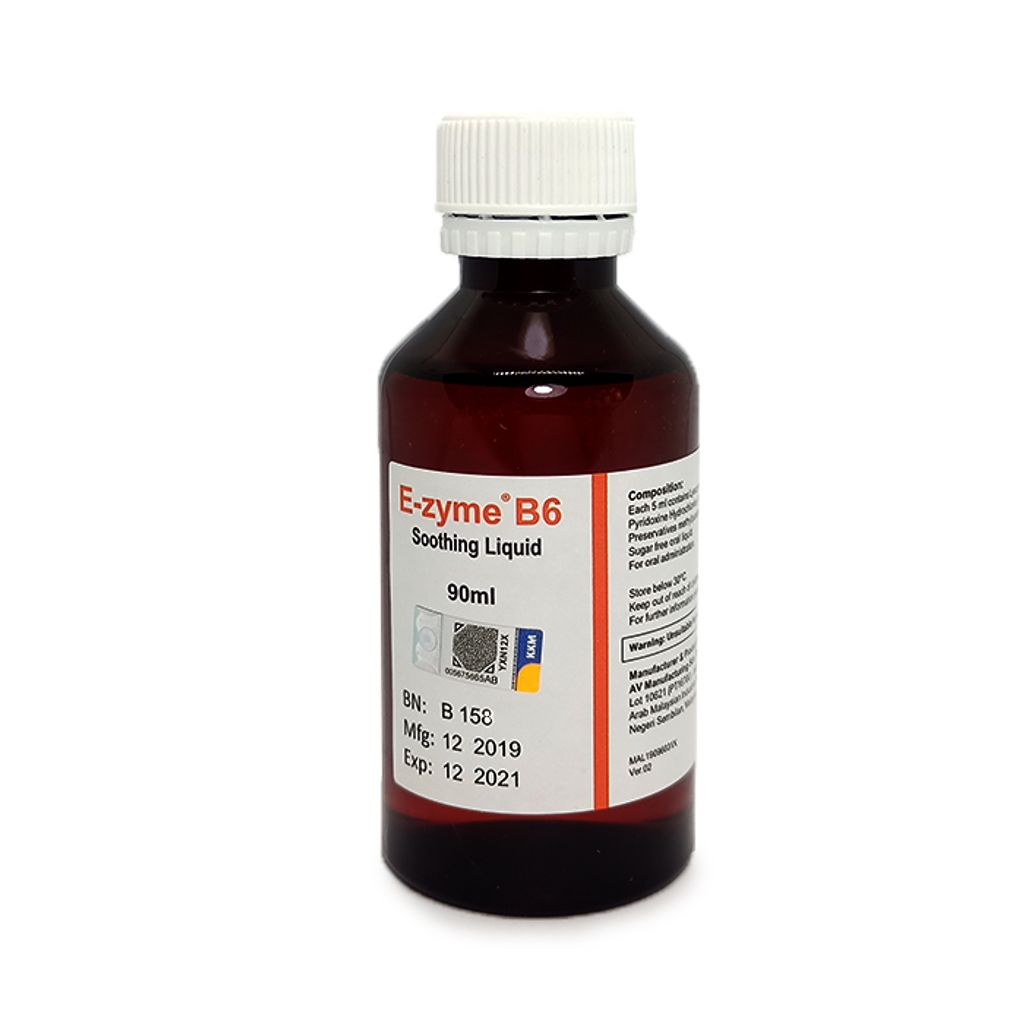 (012409) E-zyme B6 Syrup x 90ml
Note
This product can only be purchased at the Pharmacy Ehsan branch and purchased in a licensed wholesale only.
Contents
Lysozyme hydrochloride, pyridoxine hydrochloride.
Description
Troche: Lysozyme Hydrochloride 80 mg, Pyridoxine Hydrochloride 40 mg.
Oral liquid: Lysozyme Hydrochloride 20mg/5ml, Vitamin B6 (Pyridoxine Hydrochloride) 10mg/5ml, Methylparaben 0.05%w/v, Propylparaben 0.005%w/v, Sugar free oral liquid.
Action
Pharmacology: Pharmacodynamics: Lysozyme is an enzyme having a mucopolysaccharide lysing action. It enhances the effect of antibiotics to destroy or weaken cell bacteria. Lysozyme also accelerates immuno-bacteriolysis and activates the phagocytosis activity of leukocytes to destroy bacteria and viruses. Lysozyme is widely distributed in tears, nasal discharge, saliva and also breast milk. Lysozyme extracted from egg-white is used clinically for the intensification of natural defense mechanisms, restoration of damaged tissue and anti-inflammation.
The body needs pyridoxine hydrochloride in order to make cells of the immune system. Pyridoxine hydrochloride helps to improve immune response to the increase in production of antibodies and also helps in communicative interactions between cytokines and chemokines.
Pharmacokinetics: In healthy men receiving a single 900 mg (potency) oral dose of lysozyme chloride, the peak plasma concentration occurred about 30 minutes to 1 hour after administration.
Pyridoxine hydrochloride is absorbed rapidly from the upper intestine regardless of the size of the dose given. Absorption may also occur from the ileum and to a small extent from the colon. There is a linear relationship between oral dose and the amount absorbed in normal animals and in those in which the distal small intestine has been resected. These observations suggest the possibility that pyridoxine may be absorbed by diffusion. Pyridoxine is rapidly converted in the liver to pyridoxine phosphate, pyridoxal phosphate and pyridoxamine phosphate via oxidation, this causes the release of pyridoxal and so pyridoxal phosphate to the general circulation where it reaches other organs chiefly as circulating pyridoxal. In urine, pyridoxine was excreted primarily unchanged with a small amount of only one metabolite, most likely 4-pyridoxic acid.
Oral liquid: Animal studies - Absorption and Distribution: following administration of [1]-labelled egg white lysozyme (2mg/kg) into the intestinal tract of rats, peak serum and lymphatic concentration occurred at 30 minutes.
Indications/Uses
Troche: Adjunctive treatment of sore throat.
Oral liquid: A soothing preparation for relief of sore throat.
Dosage/Direction for Use
Troche: Adult: 1 troche to be sucked or dissolved in the mouth once or twice daily or according to doctor's prescription.
Oral Liquid: Children 6 - 12 years old: 5 ml.
Adults: 10 ml.
Sip the dose slowly. Repeat dose as required up to 4 times daily.
If the symptoms worsen or do not improve within 7 days, consult a doctor.
Overdosage
Symptoms: Diarrhoea, anorexia, gastric discomfort.
Treatment: Stop administration.
Contraindications
Troche: Patients hypersensitive to egg-white.
Patients with a history of hypersensitivity to any ingredients of E-zyme B6.
Oral liquid: Patients hypersensitive to egg-white or vitamin B6.
Patients with a history of hypersensitivity to any ingredients of E-zyme B6 Soothing liquid.
Special Precautions
Patients with an allergic predisposition manifested as atopic dermatitis bronchial asthma, drug allergy or food allergy to egg or pyridoxine hydrochloride (Vitamin B6). Abuse of pyridoxine may be responsible for sensory neuropathy that occurs with high doses of pyridoxine (> 200 mg/day) for a long period of time (months to years).
This is usually reversible when the treatment is stopped.
Troche: Please consult the doctor if condition does not improve after 5 days of treatment.