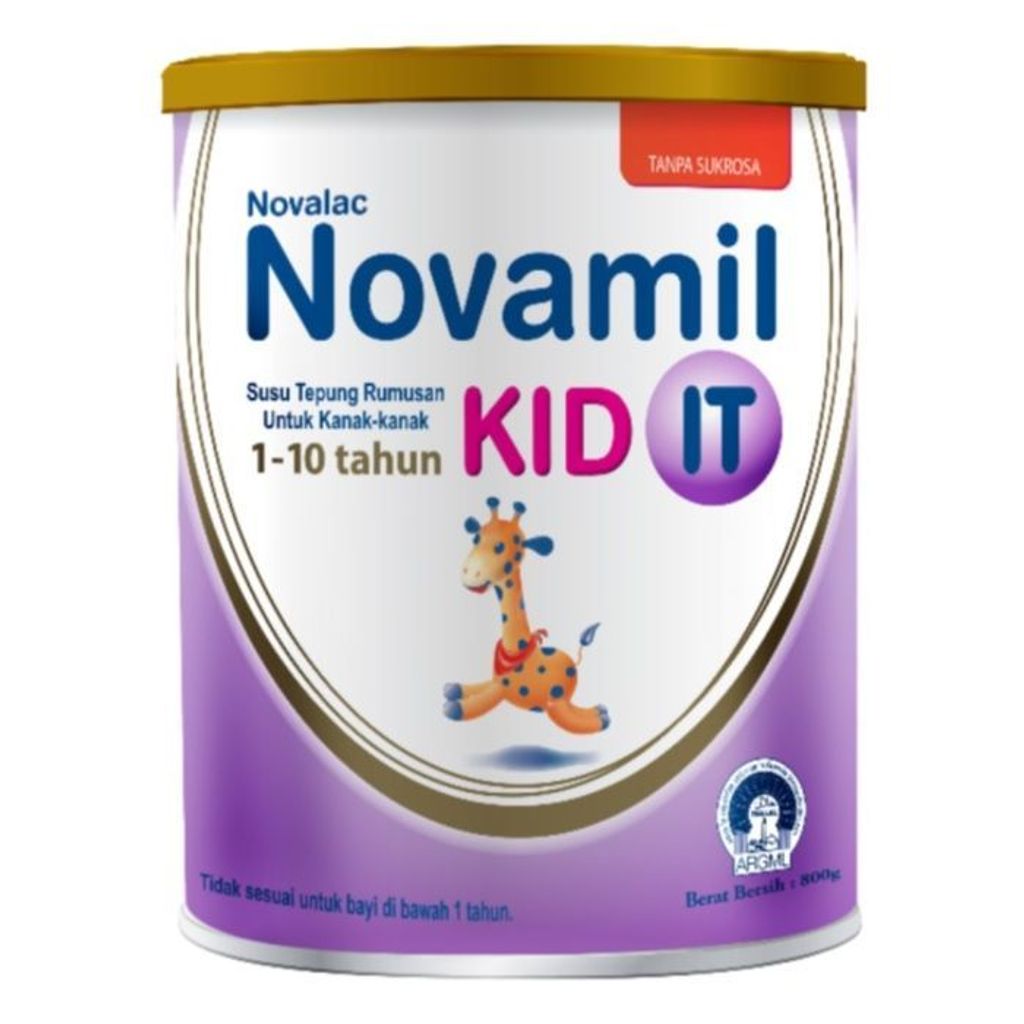 (012844) Novalac Novamil Kid IT x 800g (1-10 THN)
Product Description
? High Omega 3 & 6 from plant origin to support mental and visual development
? 1.5X higher Calcium & Phosphotus to build strong and healthy bones
? Higher Vitamin B complex to improve appetite and energy level
? 30 nutrients to support optimal growth
? Sucrose free
? Soften hard stools and improve bowel movement
? Suitable for children with constipation
Novamil KID IT with SmartGut3600 promotes optimal intestinal transit (IT) time with well-balanced nutrition. It is an advanced formula that suitable for kid from 1 – 10 years old.
How does SmartGut360o works for constipation?
- Milk Carbohydrate – with bifidogenic effect to promote gut health
- 60:40 ratio of Whey:Casein – ideal blend of protein for faster digestion rate
- 2:1 ratio of Ca:P – balanced ratio for better calcium absorption to reduce hard stool formation
- High Magnesium – stimulate intestinal movement and attract water into colon to form softer stool
? Novamil KID IT is suitable for:
- Toilet resister
- Inactive Kids
- Picky Eater
? Why choose Novalac Novamil?
TRUSTED BRAND FOR OVER 20 YEARS
Novalac Novamil takes pride in being the pediatrician-recommended brand of formula for children, with products that are innovated to support your child's health and creative development. It is a leading brand in France for over 20 years.
? What are the differences in Novamil IT 1-3 and Novamil KID IT 1-10?
Novamil KID IT is an advanced formulation with up to 1.5 times more Calcium, Phosphorus and Vitamin B complex, providing 30 essential nutrients with Omega 3 and Omega 6 to cater for children up to 10 years.
? Does my child need to stop drinking Novamil KID IT after constipation condition has improved?
It takes 6 months and above (or even more) for bowel to get into regular motion with an adequate diet and good bowel practice.
Thus, it is recommended that your child continue to drink Novamil KID IT as it is formulated with SmartGut360° that works through a 4 fold action to promote optimal daily transit time with healthier gut function and a complete nutrition for long term intake of your child.
? Is Novamil KID IT halal certified? Where is it formulated from?
Yes, all our products are halal certified, issued by Association Rituelle de la Grande Mosquée de Lyon (ARGML) in France, which is recognized and supported by JAKIM Malaysia. Novamil KID IT is formulated in France and manufactured in Germany.
? Nutrition Facts:
- Contains Up to 5 times* more Calcium, Phosphorus & Vitamin B complex
- Highest Ca:P ratio in the market of 2:1#
- Meets recommended daily calcium requirement for strong bones
- Higher Vitamin B complex to improve appetite and energy level
- 20% more Magnesium*: Help sleep better at night and relieve constipation
- 30 essential nutrients with Omega-3 and Omega-6: Promote early childhood development
- Sucrose free: Reduce mood swings, unhealthy weight gain, tooth decay and development of sweet tooth
Omega 3 & 6
Anti-oxidant blend
Essential vitamins and minerals
? Ingredients
Skimmed milk, milk proteins, vegetable oils (palm, soy, coconut), tripotassium citrate, tricalcium phosphate, calcium chloride, tricalcium citrate, emulsifier: soy lecithin, vitamins (A, B1, B12, B2, B6, C, D3, E, K1, biotin, folic acid, niacin, pantothenic acid), trisodium citrate, magnesium oxide, ferrous sulphate, zinc sulphate, antioxidants (extract rich with tocopherol), cupric sulphate, sodium selenite, potassium iodide, manganese sulphate, choline bitartrate