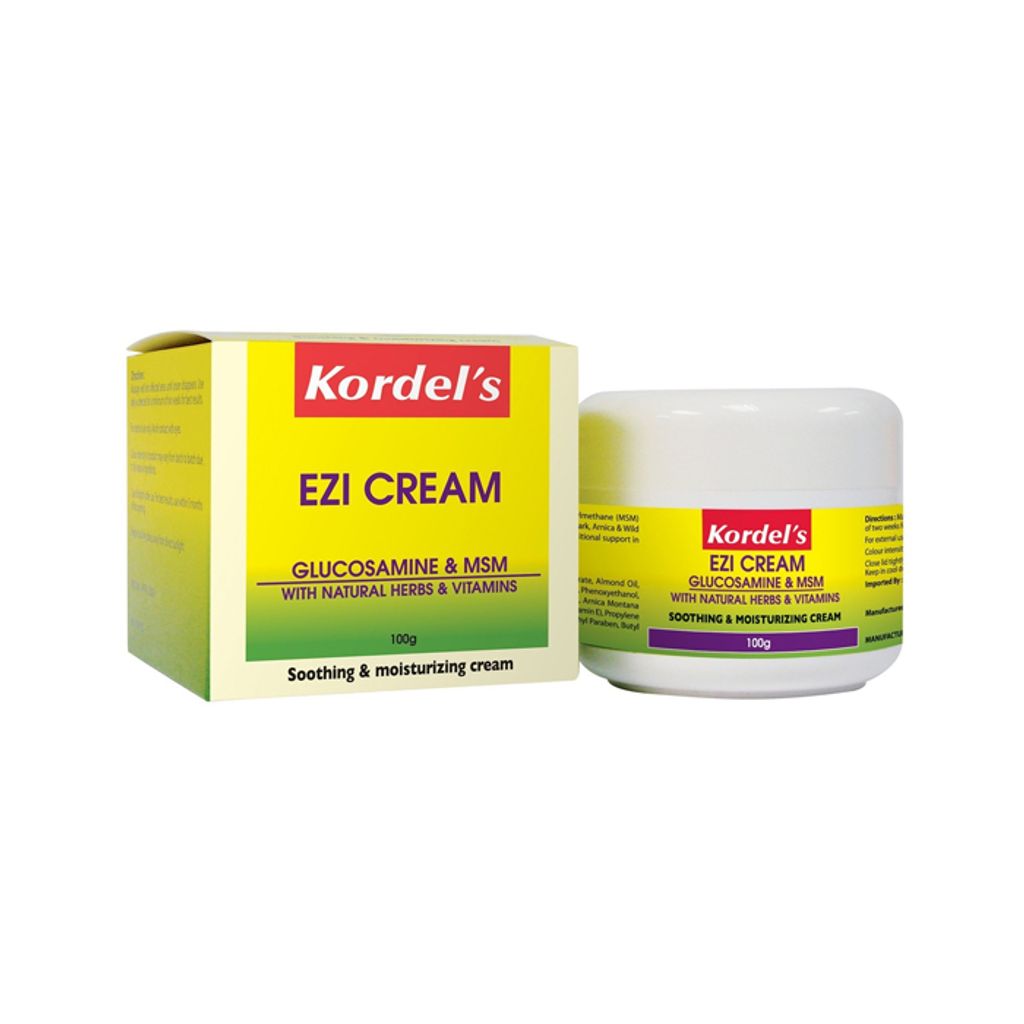 (003242) Kordels Ezi Cream Gluco&MSM x100g
Kordel's Ezi Cream brings together the synergistic benefits of both Glucosamine and MSM in a topical formula. In addition to that, its combination with natural herbs (Aloe Vera, Willow Bark, Arnica and Wild Yam) and vitamins provides an immediate, substantial and long-lasting effect for joint aches and muscle tenderness. This soothing, non-greasy and gentle formula also helps to moisturize the skin. It can be used along with oral joint health supplements for better results.
Benefits of Kordel's Ezi Cream:
Glucosamine Sulphate – To Rebuild Cartilage
Glucosamine is a natural-occurring compound that repairs, rebuilds and forms joint cartilage.
Methyl Sulphonyl Methane (MSM) - To Relieve Pain
MSM is a natural organic source of sulphur. It plays an important role in the formation of glucosamine and collagen in our bodies.
MSM relieves joint pain by reducing the pain impulses along the nerve fibers.
Willow bark has been used for centuries to alleviate joint pain. It contains a natural substance which is chemically similar to aspirin
Arnica Montana Extract – To Reduce Swelling
Arnica Montana is a well known and effective remedy for the topical treatment of bruises, sprains, and general joint and muscle pains
Wild Yam (Dioscorea villosa extract) – To Reduce Swelling
Wild Yam helps to reduce inflammation. Wild Yam also has antispasmodic properties to reduce muscle strain, soreness and tenderness.
Aloe Vera Extract – To Moisturize and Soften the Skin
Aloe Vera helps to moisturize the skin and soften hardened skin cells.
Vitamins A, C, and E are antioxidants that help in the prevention of inflammation caused by free radical damage. These vitamins also aid in moisturizing the skin and keeping the skin resilient especially in inflamed areas. Vitamin C is vital for the formation of collagen and healthy cartilage.
Directions:
Massage Well Into The Skin Area As Needed Until Cream Disappears.
Use Daily As Directed For A Minimum Of Two Weeks For The Best Results.
For External Use Only. Avoid Contact With Eyes.